Agios Ioannis Cave – Cyclops' Cave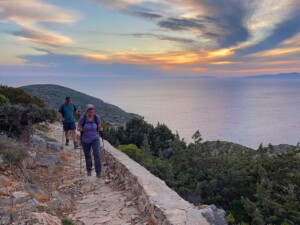 Get ready to explore the biggest and most beautiful cave of the Cyclades!
This is the most demanding yet the most beautiful of the activities we organize. The trail starts from the village of Panagia and meanders uphill towards the mountain. During the hike we will talk about the nature, history, myths, and traditions of Iraklia. We will meet goats that graze freely in the mountains, and birds of prey.
Then we reach the Agios Ioannis Cave and the famous Cave of the Cyclops from Homer's Odyssey, where there will be a short break before the main part of the tour. We put on gear and enter the cave. Following the safety advice of the tour guide and respecting space restrictions, we will explore the chambers of the cave.
A maze of geological formations such as stalactites and stalagmites embellish the cave and will dazzle us with their beauty!
Includes:
Guided walk tour
Transport to and from the starting point
Gear for exploring the cave
Photos from the tour
Liability insurance
Duration: Approximately 4 hours
Length:  5.5 km (3,5 miles)
Cost: 45 € / person
Group size: Minimum 4 people and maximum 8 people – option  of private tours
Difficulty level: Demanding – age 9+
Starting Time
15:45 (April-August)
15:00 (September-November & February-March)
Ending Time
19:45 (April-August)
19:00 (September-November & February-March)
Meeting point: Intersection
Tips
    Wear Hiking or sports shoes –  no open top shoes!
    Bring water: 1.5 liters / person
    Bring your backpack (optional)